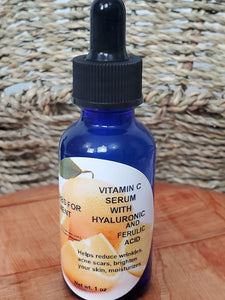 Vitamin C leaves your skin feeling soft and smooth. It boosts radiance and firms skin and diminishes fine lines,wrinkles and pores. Formulated with 10% L-Ascorbic Acid, Hyaluronic Acid, 

Ferulic Acid 

and vitamin E. The L-Ascorbic Acid know as Pure vitamin C is highly effective for its ability to improve the appearance of aging skin. It has the ability to improve the texture of the skin.
We use only the best ultra low molecular weight Hyaluronic Acid it's made of sodium hyaluronate with an average molecular weight of less than 6,000 dalton(1 dalton). It has the highest skin penetration among all types of hyaluronic acid. The Hyaluronic Acid(ULMW) is fast absorbing. It draws moisture into the skin's surface and expands as it absorbs. It is known to help smooth and plump fine lines. Ferulic Acid is an antioxidant that works to boost the effects of other Antioxidants. When used with other skin care products, it may help to protect the integrity of the skin by reducing fine lines, and spots and wrinkles. Vitamin E helps to protect cells from the damage caused by free radicals.

 
How to apply:  

Cleanse skin thoroughly prior to application. 

Apply Serum over entire face, avoiding eyes(Drop on forehead, cheeks chin). 

Massage into face in a up ward motion with clean hands. 

The serum can be applied morning and night
Ingredients:  L-Ascorbic Acid, Tetra Hyaluronic Acid(ULMW), Ferulic Acid, Vitamin E, GLycerin, Aloe Vera, Distilled water
In Love
This serum is so silky smooth ! I love how it feels and makes my skin feel so beautiful and glowy. Definitely a must have for facial routine