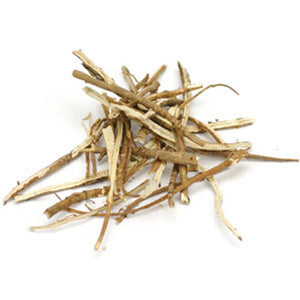 It is known also as Chai Hu, Bupleurum Chinensis, Bupleurum Radix, Chinese Bupleurum, and Bupleuri Radix. This herb is used in Traditional Chinese Medicine and is known for a host of positive benefits. REMEMBER TO DO YOUR OWN RESEARCH!!!!!
It supports liver function and is known for being cool, bitter, and acrid.  Bupleurum Root may help to reduce liver injury, reduce the risk of liver cancer, support our liver's detoxification processes, and prevent and treat cirrhosis. 

Bupleurum Root may be hepatoprotective. Meaning, it helps protect the liver.

 Bupleurum may help protect against liver injury, predominantly through its regulation of enzymes, collagen levels, and oxidative stress.

 Bupleurum may also inhibit cyclooxygenase (COX),  it may help to prevent liver fibrosis. 
Bupleurum is useful for respiratory infections, the common cold, swine flu, bronchitis, pneumonia, fever, and coughing. Some people also use bupleurum for digestive problems, such as diarrhea and constipation. As well as its ability to improve liver function, bupleurum can also help treat serious liver diseases such as cirrhosis. 
The compound constituents of Bupleurum incorporate saponins, coumarins, polysaccharides, unsaturated fats, flavonoids, lignans, polyacetylenes, and steroids.
FOR WOMENS HEALTH:
Another health benefits of Bupleurum is also for premenstrual syndrome, periods of menstrual pain, fatigue, headaches, tinnitus, insomnia, depression, liver disorders, and loss of appetite, treatment of cancer, malaria, chest pain, epilepsy, pain, muscle cramps, rheumatism, asthma, boils, hemorrhoids, blood disorders, high cholesterol, and stimulates the immune system. It has been found to be especially effective when it's used to treat the depression that can often occur during premenstrual syndrome (PMS).
HOW TO USE: The dried root can be made into a tea by adding a teaspoon to a cup of boiling water and allowing it to steep for around ten minutes.
WARNING: Bupleurum is generally regarded as safe with few reports of adverse side effects
Some side effects have been reported such as flatulence, bowel movements, and drowsiness. If you are pregnant or breastfeeding, there is not enough information about the safety of using bupleurum. So, avoid using it to stay safe. Meanwhile, in combination with other herbs can cause side effects namely serious lung and respiratory problems.