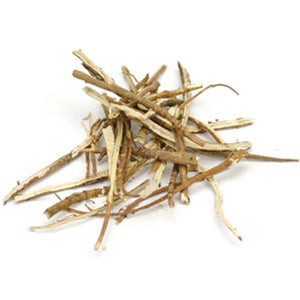 Bupleurum (Bupleurum chinense, Bupleurum americanum or Bupleurum falcatum) is a member of the Apiaceae family. Our Tincture is hormones free, preservatives free, without artificial ingredients, without antibiotics, gluten free, wheat free, dairy free, sugar-free, soy free, yeast free.
Gluten Alcohol-Free
Bupleurum is used to improve the flow of menstruation and to alleviate menstrual cramps. It is also used in the management of (PMS) Prementrual Syndrome and as a source of progesterone for expecting mothers. Bupleurum helps in management of abdominal pain and bloating. Bupleurum is used to treat Indigestion, constipation, and diarrhea.
Bupleurum is an herbal treatment for Hepatitis and Cirrhosis of the Liver. Its health benefits include the reduction of inflammation and repairs the damaged cells of the Liver and may help to prevent the development of cancer.
The anti-inflammatory activity of Bupleurum has its value in the treatment of diseases in the liver, kidneys, the spleen and upper respiratory organs. Bupleurum has a stimulating activity that helps the body to process steroids that is beneficial in strengthening the immune system.Bupleurum is used to boost the body's capability to recover after an illness.
Bupleurum has a calming effect that helps the body to overcome stress. It is used to improve symptoms in depression and anxiety. Bupleurum helps in the management of pain associated to muscle pains and headache. It reduces the body temperature and thus is used in the treatment of malaria and other related diseases. It is beneficial in alleviating the feeling of sickness, vomiting, nausea and dizziness.
Ingredients
 Certified Organic Bupleurum (Bupleurum Chinense), Vegetable palm glycerin, purified water
Directions
 Shake well before use. Take 20-30 drops, three times a day or as directed by your practitioner. Tinctures can also be administered directly into the mouth without the assistance of water however some tinctures are unpalatable which is why most people prefer to dilute them into a beverage.
Legal Disclaimer
* These statements have not been evaluated by the Food and Drug Administration. This product is not intended to diagnose, treat, cure or prevent any disease. ** Always refer to the manufacturer's label on the product for description, recommended dose and precautions.
 Statements regarding dietary supplements have not been evaluated by the FDA and are not intended to diagnose, treat, cure, or prevent any disease or health condition.