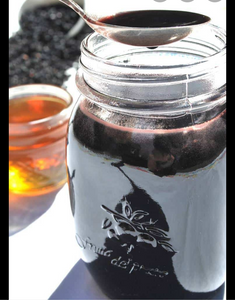 Organic Black Elderberry can make a great Allie. Elderberry can help  boost your immune system. Black elderberry  can be taken in a tea or makes a great syrup. Smooth and Effective it has a berry fruity taste. Elderberry syrup can be used for immunity or for culinary purposes.  Echinacea combined with Elderberries are a good match. Echinacea encourages the immune system and reduces many of the symptoms of colds and flu. It is antimicrobial and has phenols. Phenols have antioxidant properties,which may be good for human health. For the cough we added Mullein. It is full of beneficial components like mucilage, flavonoids, iridoids, sterols, and sugars. Mullein can help with lung and bronchial ailments such as coughs, asthma, congestion, and colds.
ADULTS: ONE TO TWO TABLE SPOON DAILY                                                     CHILD: ONE TO TWO TEASPOON DAILY
All Organic Ingredients: Elderberries,Echinacea,Mullein,Lemongrass,Ginger Root,Cinnamon Bark,Cloves,Raw Honey
Great product
The product was awesome, just as advertised. Customer service was prompt and very courteous. I will definitely be a lifetime customer.
Elderberry syrup
The elderberry is the best. I love this product I will buy again. All the product is wonderful. It is the best ever.