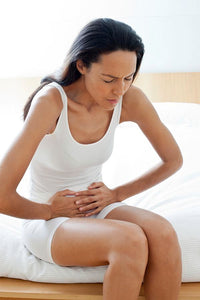 MENSTRUAL PAIN RELIEF TINCTURE 2 oz
If you are experiencing any of these anger. raging hormones. painful periods. no energy, headaches, body aches, stomach aches, cramps, sadness, crying, tired feelings, and uncontrollable mood swings this may be for you. This SYNERGISTIC INFUSION was made based off my on experiences with my menstrual cycle and being Premenopausal.
I paired Cramp Bark, Corydalis Root and Chaste Berry that have shown in research for menstrual cramps relief, lower back pain, bloating, alleviate menstrual cycle associated symptoms and PMS. Our herbal infusion supports your body's natural cycle. By doing this it  helps ease menstrual discomforts, like cramping, and aches + pains.  address period relief, pms discomfort and a wide range of female hormone-related PMS issues.
I also wanted to address hormonal imbalances Pine Bark & Ashwagandha, are rock stars when it comes to this. Smooths Liver Qi Stagnation, Bupleurum was added to Move & Nourish the Blood. Safflower can help to invigorate blood, ensuring a smooth and painless menses. Safflower contains anticoagulant compounds, so it should not be taken along with blood thinners. Most times your mood and energy levels are very low while on your cycle. 5-HTP was added to address these issues.
Ingredients:
Chaste Berry, Cramp Bark, Corydalis Root, Pine Bark, Ashwagandha Root, Safflower, Bupleurum, 5-HTP, Ginger, Fennel Seed, purified water, organic grain alcohol,  Vegetable Glycerin
Directions: Take 30-40 drops in water 1-3 times daily.
PLEASE REMEMBER TO DO YOUR OWN RESEARCH!!!!!!!!
All substances have some side effects and risks. For that reason, it would be good to know the particular side effects of herbs present in many supplements on the market.
 Legal Disclaimer
 Statements regarding dietary supplements have not been evaluated by the FDA and are not intended to diagnose, treat, cure, or prevent any disease or health condition.