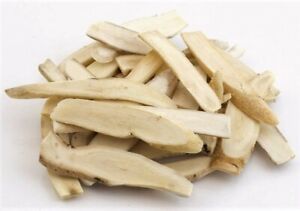 White Peony Root, technically named Paeonia lactiflora Pall., is a flowering plant native to east Asia. Its uses included supporting sleep, emotional stability, mental focus, and immunity. It has the ability to promote a healthy immune response and modulate the immune system.
Paeonia is an adaptogenic herb. Adaptogens help the body combat the effects of stress and enable the body to function normally during traumatic periods. Paeonia helps maintain the balance of the nerves when you're under stress. Paeonia is thought to help nerve pain and migraine headaches. Paeonia is believed to increase energy, intelligence, and awareness. Paeonia is believed to increase energy, intelligence, and awareness.
 Peony might block chemicals that can cause pain and swelling. It might also prevent blood clotting, and may kill cancer cells, and act as an antioxidant. Peony is sometimes called red peony and white peony. This refers to the color of the processed root, not the color of the flowers. People use peony for menstrual cramps,aging skin, cough, epilepsy, psoriasis, and many other conditions. 
Peony root are diuretic, sedative, and tonic. the plant is known for its antispasmodic, analgesic, and anti-inflammatory effects. Greeks used it to treat epilepsy and promote menstruation. European herbalists used the root as an antispasmodic and to soothe nerves. In Chinese medicine, White Peony was used to treat hypertension, chest pain, muscle cramping and spasms, as well as for a fever.
How to use; Use 1 tsp of root per 1 cup of water bring water to a rapid boil for 5 min then let it steep for 10 mins and enjoy.
DISCLAIMER:
I am not a doctor-- I am a community Herbalist who studies natural healing and therapeutic methods. The literature here is for educational purposes only, and is not meant to replace the diagnosis or treatment of medical professionals. The information in this listing is not intended to diagnose, treat, cure, or prevent any disease.

*** Please do your own research and learn any precautions associated with any of the natural herbs.