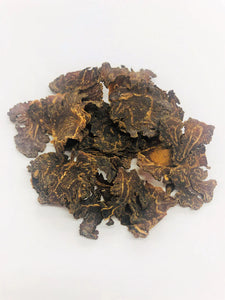 Chuan Xiong is frequently used in Traditional Chinese Medicine formulas for improving blood circulation, alleviating pain, and dispersing blood stasis. Aids in heavy menstrual bleeding. It also helps to promote the movement of 
Qi
 within the body and helps to "expel wind". The herb is known to support the Liver, Gall Bladder and Pericardium Organ Systems and to exert its effects in the upper region of the body, especially in the head and eyes, hence its usefulness for headaches.
Boost Qi and Blood circulation

Alleviating headaches

Assists gynecological conditions

Decreases pain patterns and blood stagnation. 
Dosage: 3 - 9 grams This ingredient is almost never Taken on its own but as part of a formula containing several ingredients that act together. Pairs well with our Fibroids & Endo Tea can be added for extra support. This ingredient is also in our Hormone Balancing Tea(Cool, Calm & Collected).